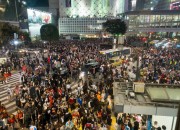 Presenting the JI Japan Report for November: Halloween in Japan! What Do We Learn about Japan from the Fun and Craziness on October 31? Our Entrepreneur this Month is Musician Kaleb James.
Tokyo, Japan, November 16, 2015 (Newswire.com) - ​International coverage on Shibuya's Halloween night celebrations was very special last month. Looking back how things were in 2001, Halloween was practically unheard of. Halloween events were limited to bacchanalian parties held by foreigners, who were annually criticized by local residents because of the amounts of public inebriation, noise, and mess they produced. Past Halloweens caused such a rift between locals and foreigners as to instigate protests against "disrespecting Japan" which eventually led to a ban on wearing costumes on JR trains.
It is surprising how things have changed! Fortunately for most, the changes have all been for the better. Over the last few years, Halloween has quickly become embraced by bigger cities in Japan and, as the Japanese do so uniquely and incredibly well, adapted it to fit in with the Japanese culture. And nowhere else is this exemplified better than Shibuya's Halloween weekend festivities. This article explores why Halloween has suddenly become so popular in Japan, as well as the effects of Shibuya's being THE place to be on Halloween.
First, the WHY? Economically speaking, the answer's easy. This year an estimated ¥122 billion was generated by Halloween sales. It is now the third highest grossing imported cultural event, following Christmas and Valentine's Day. As more and more families decorate their homes and purchase costumes, more and more retailers are jumping on the bandwagon to take advantage and reap profits. Amazon.co.jp reported such a positive response to Halloween sales that it opened its Halloween section the end of August, a full two weeks earlier than last year. And this year, Seven & I Holdings ramped up its own Halloween sales campaign by introducing Halloween goods at all of their Ito-Yokado outlets – the first time the nationwide supermarket chain has done so.
Although it's difficult to pinpoint one specific catalyst for Halloween's unforeseen popularity, many experts and analysts believe the Great East Japan Earthquake certainly has something to do with it. According to Kiyoshi Kase, a representative of the Japan Anniversary Association, which registers anniversaries for businesses, organizations, and individuals, "People have become more interested in getting connected with each other under a unified purpose," just as they sought ways to cooperate in aiding victims of the 2011 quake and tsunami disaster. And with the ubiquity of smartphones and social media services like Facebook and Line, it's no surprise to see just how easy it is these days to get and stay connected.
In the past, Halloween was limited to a handful of parties in Roppongi where anywhere from a few dozen to a few hundred would get together in costumes to celebrate. We partied hard to make the most of the evening until many, myself included, discreetly left the scene in order to avoid the inevitable visit by Japanese police to shut things down. This year in Roppongi, some 3,000 people held a costume parade that drew 98,000 spectators – completely incident free. At JR Kawasaki Station, where the country's largest Halloween parade and party has been staged for the last few years, over 2,500 people in costume attracted 110,000 onlookers. Again, completely incident free.
The visibility of Halloween events this year was everywhere – but nowhere more so than in Shibuya's iconic scramble crossing. Several thousand revelers, both foreign and Japanese, donned their favourite costumes and descended upon Shibuya's most famous spot on Saturday the 31st to celebrate Halloween night. The merrymakers showed off their wildest threads and outrageous make-up to each other as well as to the television crews whose numbers were also greater than they've ever been, while slowly marching along the streets in no particular order. About 800 riot police from the Tokyo Metropolitan Police Department were mobilized for the event, a number doubled from 2014; in the end, only two people were reported having been arrested – the same number as last year.
There was even a large tent set up near the station to act as a temporary changing room. It was set up by local businesses and the Shibuya municipal government to avoid last year's occurrence of trash and stage blood being left in station bathrooms and nearby department stores and on the streets, since most people came to Shibuya first then dressed, rather than coming by train already costumed.
It was a spectacle, not just because of its sheer size and outlandishness, but also because the entire thing felt irrevocably Japanese. Where else in the world could you gather crowds of thousands of people, identities disguised, in close quarters from night until morning all the while feeling 100% safe from harm? Absolutely nowhere, yet another reason why so many now flock here each year at the end of October.
The Japanese love to celebrate. In spring there's hanami (cherry blossom viewing), in winter there's Christmas. Both are opportunities for families, couples, and friends to get together – something Japanese culture has promoted for centuries. Halloween provides a perfect autumnal excuse to do just that; it's night where everyone can dress up colourfully in "cosplay" (another inherently Japanese custom) and get a little crazy without fear of self-embarrassment or their safety.
But the thing that seemed to impress most people around the world who paid attention to this year's Halloween extravaganza was how clean the city was left the next day. The Tokyo Metropolitan government had organized a clean-up campaign by handing out free orange jack-o'-lantern-themed garbage bags to anyone willing to take one, while celebrities urged people to clean-up the city as they marched. The campaign was called "Halloween & Tokyo" and its slogan was "Cleanest Halloween in the world."
They undoubtedly succeeded. It was indeed, a Happy Halloween for everyone.
If you'd like to see firsthand what it was like in Shibuya that night, here's a link to a YouTube video: https://www.youtube.com/watch?v=OQKeryuziCc
If you'd like to bookmark a comprehensive list of parties and parades for your Halloween celebrations next year, just click here.
FREE Tech Report from Nikkei BP
Interested in Japanese Automotive Technology? Here's a free report for you from Nikkei BP
 
Nikkei BP is an excellent resource for technology info in Japan. Japanese, specialized, and full time tech writers at Nikkei BP are able to get views on the industry you wont find in any other publication. These for purchase reports are translated by tech specialists and samples are ready for your perusal. A free report on CFRTP is also available for you to test out the value of these great reports. Easily purchased via PayPal.
H&R Roppongi – Special Trial Stays Available for the Christmas/New Year
Are you having trouble finding accommodation for a family or friend between December 23 and January 9?
Jarman International can help. We are working with Hotel & Residence Roppongi to provide great accommodation for people who have not stayed at H&RR before and who would be willing to complete a survey about their stay after they check out. This will give those having trouble securing a hotel room a nice place to stay at a reasonable rate and HRR a good resource for future marketing efforts. So, if you or anyone you know is having trouble securing accommodation for the end of 2015 and the beginning of 2016, please drop us a line at ruth@jarman-international.com and we will see what we can do.
Our Entrepreneur this Month is Musician Kaleb James 
by Petra Canan Trudell
"Gold is where you find it"
These are the words musician Kaleb James' mother said to him when he called to inform her his brief stay in Japan was about to get a bit longer. More than 20 years later, he's built a successful career playing and producing music and now has big plans to bring the very best throughout Japan. This is why we've chosen Kaleb as our featured entrepreneur of the month.
A native of Queens, New York, American Kaleb first came to Japan back in 1990 with the intention of staying only five weeks. But his talents found him in the right place and at the right time and the opportunities available to him in the music industry in Japan have kept him here ever since.
Click here to read the full article...
Enoshima Island Spa
U.K. celebrity blogger Sasha Wilson recently visited Enoshima Island Spa and published an article. The following is an excerpt:
 
"This spa was the perfect getaway after long trips I had endured around the whole of Japan. After travelling to Hiroshima, Kyoto and Osaka this place really chilled me out. It is great for many reasons and not just one. The all-inclusive unique hot springs, three different pools, various themed massage/relaxation rooms is what makes this place worth the money and time for the ideal weekend getaway. It is a fantastic tourist destination and the person who wants a break from Tokyo city life. With only an hour and a half away from Tokyo, Shinjuku, it's very accessible and practical choice which overlooks views to the famous Mount Fuji on a clear day. My favourite pool was the infinity pool, which looks over the sea and the mountains in the back, a rare view indeed. Sometimes it's just lovely to think and take in your environment and thoughts in a tranquil environment such as this. The pools in the cave were very different and distinctive; I have not seen anything like it anywhere. At night, it really is a spectacular experience that you will take away with you."
Click here to read the full article and take a look at her other amazing photos of her time at the spa.
Share: